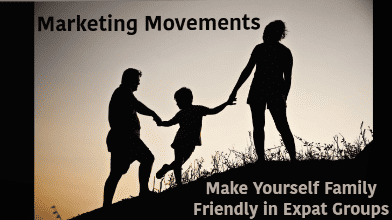 As a moving company, families and moving them safely from one place to the other is an integral part of daily business. For this reason, it is important to have your marketing strategy family focused so that you are not missing out on targeting these valuable potential key customers. It is important to identify what families are after regarding moves and to bespoke your marketing strategy for them. A great way to tap into the expat-family business is to join expat-communities from your city on Facebook.
The key to attracting more family moves, Boosting referrals and achieving customer satisfaction through the whole family unit is Personalization, Recommendation, Partnering and Looking after the little ones.
Personalization
When dealing with families you must show an increased level of personalization. Tensions around a move, especially an international one, are high so any little personal touch in your marketing can help attract families to choose you over your competition. Joining expat groups on Facebook that are in your city and posting family targeted adverts and blog posts on these groups' feeds is a great way to start. Make these adverts family specific and use artwork that show families. If you have photos from moves you have carried out for a family then here is a place to use them. Any family who has moved overseas for work will almost always join an expat group to help them settle and find out about activities, schools, sports clubs and to find buy and sell items. They usually join these expat groups before they even arrive so by using these expat groups as a medium to showcase your family friendly services you get fantastic exposure!
Recommendations
Recommendations are also a fantastic way to boost business and actually easy to achieve if you can tap into the expat communities. I have a fantastic example of this. Recently I was approached by a Head Teacher from an international school in Bali, Indonesia. He was looking for a moving company to organize a move for him and his family back to Australia. It was a tight time-frame due to the covid-19 crisis and our members in Indonesia and Australia quickly coordinated and secured the move and executed it to perfection leaving a very happy customer! That happy customer then went on to refer another friend who was looking to also move back home. This came from tapping into the expat community in that area! From marketing this it will in turn produce more business and is an unbelievably valuable marketing approach!
Partnering
As talked about in previous editions, partnering with different entities can be a valuable marketing approach. Two great examples are international schools and real estate agents as there is a clear synergy between the customers of moving companies, international schools and real estate agents. Also, international schools and real estate agents deal closely with families so by partnering with them you are getting direct access to them. Why not offer special discounts for teachers from some international schools in your city who are looking to move. You can do the same for families of students attending those international schools. With real estate agents a special offer for anyone renting through that estate agent. By targeting adverts and fliers on these expat community Facebook pages it helps you build bonds with potential partners and specifically target key potential customers.
The little one's
Children are a huge part of the family unit and when kids are thrown into an international move it raises stress levels. Every parent's nightmare is just settling into you new home and unpacking while your kids are running wild making a mess and turning a difficult process into a warzone! A great way to help your customers is to take a few little steps to show you care such as giving a colouring book or sketch pad and crayons to your customers kids to keep them busy. Get your logo and branding on the sketch pad cover and you are creating added marketing power. Maybe even go all out and get some small toys with your company branding on it. If you make the little ones happy it is surprising how far this will go to help you with referrals, recommendations, and thus more business from families in your community!
Written by: Matthew O'Hagan